If you live in Cincy, chances are good you've been to a park – since 88% of Cincinnati residents have access within ½ mile or a 10-minute walk! And maybe you heard we came in 4th out of 100 US cities on a recent national ParkScore ranking.
But do you really know the scope of all the Access available to you? We didn't! So – we ventured out with one of our patients, Shane, to see for ourselves.
Cincinnati parks are a great and largely free resource. While the ParkScore is calculated based on 5 categories, including Access, we were left wondering… Access to what? Access how?
Easier said than done? The word "access" can have a much greater meaning for some. Amputees and less-abled individuals know this all too well.
While the ParkScore analysis "identifies physical barriers such as highways, train tracks, and rivers without bridges and chooses routes without barriers," less-abled individuals (like amputees walking with prosthetic legs or using a wheelchair) will likely define the word "barrier" differently.
Luckily, the Great Parks of Hamilton County understand there are additional barriers less-abled individuals are sometimes forced to consider to fully access and enjoy all that our parks have to offer. In fact, they have a page on their website devoted to Accessibility.
Examples:
ADA-compliant Kayak/Canoe Launch:
Photo credit: Bridgett Raffenberg
Photo credit: Bridgett Raffenberg
Prosthetix Shop's owner & lead prosthetist, Aaron Moles, pictured here with his family.
We're a team of water-loving kayak enthusiasts at Prosthetix Shop, so we were naturally thrilled to discover the ADA-compliant kayak/canoe launches at both Winton Woods and Miami Whitewater Forest.
With support from the Ohio Department of Natural Resources Division of Watercraft and Great Parks Forever, these launches include floating docks equipped with a "Universally Accessible Transfer System" – allowing unassisted individuals with physical disabilities to access a kayak or canoe. The bench slides over onto a railing system for easier transfer. See above example.
*Want a prosthetist to meet you there? Call Aaron Moles at (513) 843-5126.
Seriously, call him. He loves outdoor activities. His patients love that about him and so does his family!
---
Trails:
Shane getting ready to hit the trails
Shane takes a stretch break
Shane at one of the exercise stations
Ok, so you might be thinking, "Yeah, we know about the trails." If so, is that because you've been to one of these parks before and experienced it firsthand? If that's the case, great! If not, maybe you want a little more information before heading out.
With the exception of Sharon Woods, did you know that all of Cincinnati's Great Parks have paved, asphalt or concrete shared-use trails? Helpful for lower extremity amputees and others with mobility challenges.
Love this too! You can filter by park, trail type, level & proximity. The trail level is filtered by: Easy, Moderate or Difficult. The type of trail includes: Fitness, horse, mountain bike, nature & shared-use.
*The photos of Shane at Woodland Mound above include stops along the fitness trail at various exercise stations. Welcome activity & stretch breaks along the path!
---
SoloRider Golf Carts:
If you're an amputee who wants to play golf without spending your day shouting "FORE!" — we've got a few recommendations for you:
Call Prosthetix Shop at (513) 843-5126. We can make sure you're using the right devices/accessories and make the necessary adjustments to your prosthesis you might need.
Another option for amputees experiencing too much fatigue or not currently wearing a prosthesis is the SoloRider single-passenger golf cart. You can play from tee to green without ever leaving your cart.
Great Parks has 8 carts available at these courses:
Meadow Links & Golf Academy
The Mill Course
Little Miami Golf Center
Miami Whitewater Forest Golf Course
The Vineyard Golf Course
*You can reserve a SoloRider cart in advance & also schedule a time for a demonstration of the cart to see if it works for you. Just call the individual course where you'd like to play.
---
Playgrounds:
Who doesn't love a playground? For kids of all abilities, including amputees.
Great Parks offers 2 universally accessible playgrounds:
The play structures include:
Multiple wide ramps for mobility device access
A rubber safety surface – access to all areas of the playground
Shaded structures
"Power Scape" – encouraging physical fitness and coordination
PLUS … a Zero-G Chair

Zero-G Chair? What's that?
It's the first accessible swing of its kind to be ergonomically designed for ages (2−5) and (5−12). And it's over-sized locking-mechanism makes securing a child safe and easy.
Available at:
Winton Woods
Sharon Woods
Lake Isabella
Woodland Mound
Miami Whitewater Forest
Shawnee Lookout
Embshoff Woods
---
Programs & Events:
Great Parks will make every effort (preferably with 2 weeks advance notice) to provide reasonable accommodations so that people with disabilities may participate.
The next Concert in the Park:
September 10: Brass band, Jump 'n' Jive Big Band
Sharon Woods | Cardinal Crest Meadow
11450 Lebanon Road
Sharonville, OH 45241
And Don't Miss These Upcoming Educational Events!
September's line-up includes:
Bird Walks, Story Time in the Garden, Pottery, Kayak Basics, Nature Fun Hunt, Urban Farming, Art on the Lawn, Harper Quilt Show, & Outdoor Fitness.
---
Views: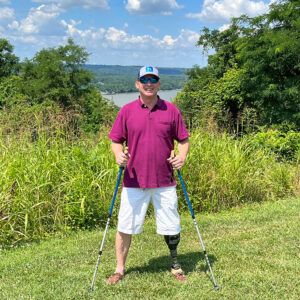 Here's an example of just one of so very many in the Greater Cincinnati area! Where do you think this is?
Please comment below and share your favorite park view!
---
Note: Daily parking passes can be purchased for $5, or you can get an annual parking pass for $10 (which includes coupons & discounts to boat, fish, camp, golf or attend special events).
It's almost Labor Day but we certainly have plenty of good weather days left to enjoy the great outdoors in our own backyard!
We love the parks so much we're going to be featuring many more throughout the Cincinnati, Northern Kentucky & Columbus areas, so stay tuned! And please let us know what you'd like to see or hear about!
Have a great holiday weekend!
**Ask an Expert:
Prosthetix Shop delivers expert, licensed and state-of-the-art prosthetic care to amputees in Cincinnati, Northern Kentucky, Urbancrest & Columbus, OH.
With 20 years of experience, we know that fitting and adjusting prosthetic legs & prosthetic arms is more than just a functional service. Our holistic process involves listening to your unique needs and objectives, thoroughly assessing your mobility opportunities, and promoting a healthy mindset to achieve your goals (big or small).
We're here to help you regain control over your world. Finding the right prosthetist can be life-changing. You'd be hard pressed to find two prosthetists like Aaron Moles & Megan Albury who care more and will work harder for you. Call now for a free consult!
Call or text (513) 843-5126, or email info@prosthetixshop.com.
#amputee #amputeelife #prosthetic #accessibility #Cincyparks #greatparks #Cincinnati #labordayweekend #solorider #woodlandmound #wintonwoods #miamiwhitewaterforest #ezlaunch