Our Story on Prosthetic Care

Prosthetix Shop was founded in December, 2012, when Aaron Moles sought out to deliver a conscientious approach to prosthetic care within greater Cincinnati. Nine years later, Aaron continues to provide the same exemplary care, as he partners with Megan Albury to bring the same vision and thoughtful approach to patient care in greater Columbus.  
At Prosthetix Shop, we believe patient care should be truly human-centric and focus on the needs, goals, and general well-being of the patient.  We are on a mission to raise the bar for prosthetic care and challenge the status quo by providing consistent, patient-driven care.  This is accomplished through extremely thorough assessments, listening to the needs and goals of patients, and involving them in the decision-making process. A strong commitment to follow-up care facilitates success and helps patients achieve their goals.  
We believe that fitting our patients for prosthetic devices is more than just a functional service. Our holistic process involves promoting healthy mindsets and encouraging amputees to achieve their goals and embrace their mobility accomplishments.  We believe in continually empowering and supporting our community by fostering great personal relationships with all of our patients and their prosthetic care team.
Since launching in 2012, Prosthetix Shop continues to provide educational resources for nurses, physical therapists, and other allied health professionals on various topics surrounding prosthetics. We also maintain close relationships with local physicians who consult with us regarding next steps and best practices, following an amputation surgery.
Prosthetix Shop is an advocate of the Ertl procedure, which is a reconstructive surgery that builds a bridge between the tibia and fibula to create a more viable limb for the prosthesis. This procedure is known to promote better vascularity in the residual limb, improve functionality, and decrease discomfort.
Finding the right prosthetist can be life-changing. One of the best parts of our job, if you can call it that, is forging lifelong relationships with those we have the privilege of providing care to.  You'd be hard pressed to find two prosthetists who care more or work harder for you than Aaron and Megan. Please reach out – we'd love the opportunity to get to know you!
Our Staff
Aaron Moles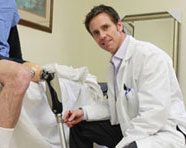 Prosthetix Shop was founded by Aaron Moles, who graduated from Northwestern University's Prosthetic & Orthotic Certificate Program in 2004, following his Bachelor of Science degree in Biology with a minor in Chemistry from Wright State University.
He is an expert in the design and custom fabrication of prosthetic devices and appliances. He is also licensed in Prosthetics by the State of Ohio. Aaron's experience in the medical field began in 1989 as a Search and Rescue Specialist in the United States Navy.
Aaron's experience includes working with body-powered and bionic prosthesis, myoelectric limbs, the Rheo Knee, the Power Knee, C-legs, and Proprio Feet. He has also been a long-time advocate of the Ertl reconstruction, and has assisted local surgeons in numerous procedures. Aaron has also presented at the International Human Cadaver Prosection Program at IUSM-Northwest and regularly provides educational workshops on amputee care at local hospitals.
Megan Albury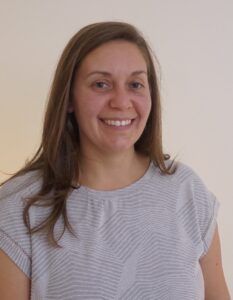 Growing up in the rural farmlands of Northwestern Ohio, Megan's work ethic and attention to detail were cultivated. Driven by a love of problem solving and desire to help people, she went on to pursue her undergraduate degree in Biomedical Engineering from Wright State University.
Soon the familiar north winds beckoned her to The University of Connecticut where she earned her certificate in Prosthetics. After completing her residency in Cleveland, Ohio, she brought her talents south to Flavortown. Feeling limited in her scope of care, she went on to complete her studies at the University of Hartford to earn her certificate in Orthotics. As an ABC certified and licensed Prosthetist/Orthotist, she has remained ubiquitous within the Columbus prosthetic/orthotic field for the last 15 years. Her passions extend beyond patient care, including prosthetic design, pediatric care, and implementation of state-of-the-art prosthetic componentry.
Megan is married and has two amazing children. If she had free time, she would enjoy crafting, kayaking, camping and doing yoga; but you will generally find her cleaning, gardening, playing or preparing snacks.
Our Mission
It is our mission to improve our patients' quality of life, helping them to successfully and fully re-engage in their vocational and recreational activities. Contact us today to experience our comprehensive approach to prosthetic care! Connect with us on Facebook as well!