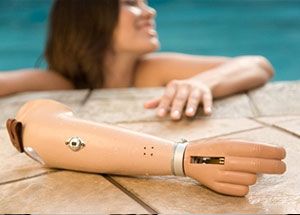 Appearance, functionality or both? That is the question … right?
While your "ideal" is to most likely not be having this conversation at all (and trust me, we get that!), our expert prosthetists will outline all of your options so you can make the choice that's right for you.
Myoelectric prosthetics, such as the i-limb, are an attempt to serve both purposes of an artificial limb equally without sacrificing appearance for functionality.
But maybe speed, strength and dexterity factors outweigh your desire for the latest cosmetic "makeover". Farmers, maintenance workers, chefs, administrative professionals and parents know this well. So, perhaps, body-powered prosthetics may functionally serve you best.
Eager to simply brush your teeth, cook an egg, garden, operate a machine or attend a job fair without fear of limitation?
Regardless of your needs, occupation and recreational activities, Prosthetix Shop can help!