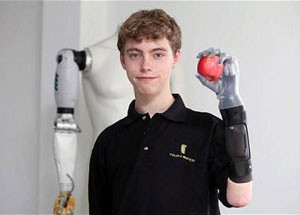 We provide prosthetic devices to suit all your needs, whether you've experienced or were born with limb difference. As we understand how important this individual process is for a person living with the challenges of limb deficiency, we make sure to listen to and support our patients while involving them every step of the way.
Here are some reasons why our patients choose us:
Patient

testimonials

High-quality, pain-free prostheses

Our experienced, trained, and kind staff 

We've been featured in the

media

Custom-made prostheses

Prosthetic comfort and care
A prosthesis is more than just a tool – it is an artificial limb or part of a limb that can help you regain independence after an amputation or if you've been living with limb loss for a long time. The decision to use (or not use) a prosthesis is based on your own goals as a person. We can help you select the prosthetic devices that will assist you in achieving your objectives and living the life you desire. 
Consider the following factors:
What is the level of amputation?

What stage of the process is the patient in currently? 

How long has the patient been facing limb deficiency?

Is the prosthesis for form or function, or both?

What occupational or recreational activities should it support?

What would the patient like to accomplish with the device?

What type of a device can someone manage independently while accomplishing activities of daily living?

Does the prosthesis fit properly?
Our Quality of Service
There is no one-size-fits-all solution for our patients. Working with our team and network of therapy providers to address our patients' wants, needs, and concerns allows us to effectively help them find successful outcomes, from the design and fit of a prosthesis down to aftercare support.
We understand that rehabilitation is a collaborative and ongoing process. Our service does not end after we provide you with our prosthetics. We work closely with all of our patients and provide support in building a rehabilitation plan that is based on their mobility goals.
Our Follow-Up
Aftercare is a lifelong commitment that ensures your prosthetic devices fit correctly and continues to assist you in your daily activities. Our aftercare includes follow-up sessions as well as counseling on how to take care of your prosthesis and residual limb on your own. 
Follow-up is a lifelong activity. At Prosthetix Shop, we build lifetime relationships with all our patients, helping you make the best possible decisions that matter to you and your loved ones.
Evolving Needs
You may realize that your present device isn't as functional as you'd like it to be. Here are some questions to ask yourself:
Has my residual limb stabilized, and do I need something different or more long-term?

Is my device damaged?

Do I need to change my current device?

Should I upgrade to a new device, such as a vacuum-suspended prosthesis or a microprocessor-controlled limb?

Am I experiencing new pain, discomfort, or a lack of stability?
Perhaps it is time to re-evaluate your needs. Let Prosthetix Shop help you get ready to tackle new goals over time, whether incrementally small or big jumps, at home or on the ski slopes.
We'd love to help you weigh the pros and cons as you find the right path that works for you. Call us today in the greater Cincinnati, tri-state area at (513) 843-5126 and in Columbus, Ohio at (614) 500-4215, or visit our Contact Page to send us a message.
Prosthetic Products & Services: